Case type codes on Canadian work permit documents
Every profession comes with unique jargon and acronyms. Of course, the Canadian immigration system is no exception. Some of these terms and abbreviations are easy to understand. However, some of them seem remote. Consequently, we have developed a glossary to assist you in understanding those concepts. Regardless, some terms deserve a standalone article. Case type codes on Canadian work permit documents are some of them.
What is a work permit document?
When foreign national intends to work in Canada, they need authorization. Sometimes, you may work in Canada without a work permit. However, you must hold a work permit in most circumstances. Unless you are already inside Canada, you receive your work permit document at a port of entry. Unless you may apply at the port of entry, you must already have approval from an immigration officer. The following image shows a highly redacted work permit sample. Regardless, I have used an old format work permit to prevent abuse. As you can see, one of the main elements of a work permit is a case-type code that appears in the middle of the document.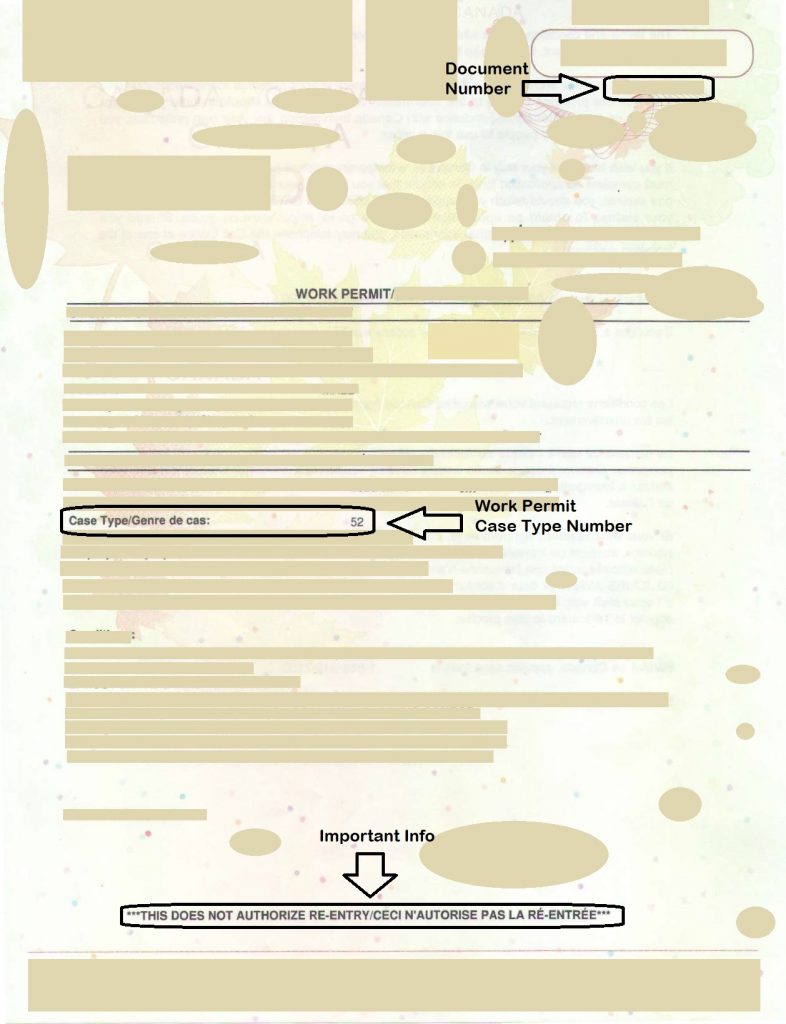 Case type codes on Canadian work permit documents
A typical code consists of two digits. I requested the codes from IRCC, and they shared the following list with me. However, this list may not be comprehensive.
| | |
| --- | --- |
| Code | Definition |
| 07 | The US government |
| 08 | The US government (dependent) |
| 20 | Worker Not Elsewhere Specified |
| 21 | Employment form |
| 22 | Official status |
| 23 | Entertainer |
| 24 | Student |
| 25 | Commuter |
| 26 | National of a communist country |
| 27 | Under application |
| 28 | Under enforcement |
| 29 | Refused application for permanent resident |
| 52 | LMIA exempt |
| 54 | Same employer or Subsequent open work permit |
| 56 | Post Graduation work permit (PGWP) |
| 57 | Live-in caregiver work permit |
| 58 | International Experience Canada (IEC) |
| 59 | Co-op work permit |
| 60 | Employer compliance exempt |
| 86 | Others |
| 98 | Seasonal worker (Mexico and the Caribbean) |
Some of these codes seem outdated. For example, code 26 makes no sense in the 21st century. However, many of them are still in effect. The case-type codes help immigration authorities quickly understand the nature of the work permit. Of course, the officers could look into GCMS for more information. The GCMS is a giant database. Therefore, a glance at the code could answer many questions.
Helpful resources besides case type codes
Now that you are familiar with case-type codes on Canadian work permits, you may consider reading the following articles. Of course, I have cherry-picked some of the items that seem more relevant.
I have many other articles. However, you may also watch my educational videos on YouTube.
Let us help!
If you have general immigration questions, you may fill out the following form. Of course, in general, we are referring to questions such as, "What are case type codes on Canadian work permit documents?" If you have specific questions, please book an appointment with me. Of course, you may fill out our assessment form as well.
Updated: 2021-07-28
If you wish to visit or move to Canada, please fill out our free assessment form. We will review it for free, but we will contact you only if we find an opportunity for you. Alternatively, you may book a consultation session. Consultation sessions are not free, but you will receive formal advice from a licenced practitioner.
Al Parsai, MA, DTM, RCIC
Regulated Canadian Immigration Consultant
Ashton College Instructor – Immigration Consulting
Author – 88 Tips on Immigration to Canada
Fill our Free Canada Immigration Assessment Form in your language!
Disclaimer:
This article provides information of a general nature only. Considering the fluid nature of the immigration world, it may no longer be current. Of course, the item does not give legal advice. Therefore, do not rely on it as legal advice or immigration advice. Consequently, no one could hold us accountable for the content of these articles. Of course, if you have specific legal questions, you must consult a lawyer. Alternatively, if you are looking for immigration advice, book an appointment.
The characters and places in the articles:
All the characters and locations in the articles are fictional, unless otherwise clearly stated. Therefore, any resemblance in names, dates, and places is coincidental.
Important Notes:
For our official addresses, trust this website only. We currently do not have offices outside Canada. Therefore, anyone who claims to be our agent is committing fraud. Also, note that we do not issue any work permits or study permits or similar documents. The government of Canada has the sole authority to issue such material.