Dependent type A B C in immigration to Canada
When you immigrate to Canada, you have to fill out a bunch of forms. The most popular form is IMM 0008. We also know it as the "Generic Application Form for Canada." Most of the questions on this form are straightforward. However, "dependent type A B C" is one of those ambiguous ones. Let's explain this option.
Who is a dependent child?
Generally speaking, a dependent child meets one of the following criteria:
1. The child is less than 22 years of age and is not a common-law partner or a spouse, or
2. is 22 years of age or older and depends substantially on the parent's financial support before attaining 22 years. These overage children cannot support themselves financially due to a physical or mental condition (section 2 of IRPR).
Of course, by a child, we are talking about either biological or adopted children. Keep in mind this definition applies to those children that their age lock-in date is on or after August 1, 2014. However, if the child age lock-in date is before that date, we could have a third group of dependent children:
3. The dependent has been continuously enrolled in and in attendance as a full-time student. The education must occur at a post-secondary accredited institution. Of course, the parents have substantially supported them financially since before the age of 22.
Dependent type A B C
The dependent types come from the definitions in the previous section, namely:
Number 1 (i.e., children under 22 and not married) is Type A
Number 2 (i.e., children 22 or older but financially dependent) is Type C
Option 3 (i.e. specific children with age lock-in date before August 1, 2014) is Type B
Since IRCC has finalized almost all of the old immigration applications, Type B children are scarce. Consequently, in most cases, the dependent type is A and occasionally C. Of course, if you are recently applying, type B won't be an option for you.
The following flowchart assists you in recognizing the dependent type for recent applications.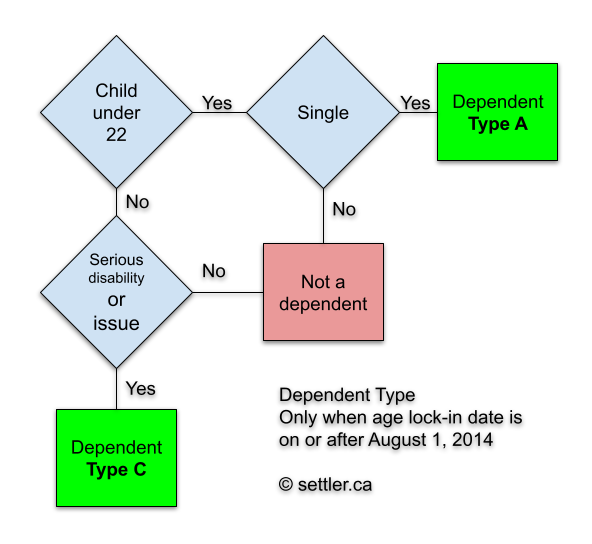 How to prove the child is a dependent Type C?
Sometimes your child is over 22 but financially dependent on you. However, they are only dependent if they are facing severe physical or mental challenges. If you believe your child fits this bill, consider the following:
Proving the dependency is not easy. You need to present several documents such as,

Medical records
Reference letters from doctors or psychologists
Other documents

A side-effect of having a Type C child is medical inadmissibility for the child and the whole family.
You could consider booking an appointment with me to see if your child is Type C and if yes, could it make you inadmissible to Canada.
What about other family members?
Other family members do not fit under "dependent type A B C." Therefore, if you pick another family member, IMM 0008 will disable this option.
Let us help!
If you hire my team and me, we will assist you in filling out the forms. Consequently, you do not need to worry about "dependent type A B C" or other questions. Remember that some mistakes on the forms could result in the refusal of the application or even inadmissibility. If you would like to hire us, fill out our free assessment form or book a consultation session. Of course, you may alternatively fill out the following form:
If you wish to visit or move to Canada, please fill out our free assessment form. We will review it for free, but we will contact you only if we find an opportunity for you. Alternatively, you may book a consultation session. Consultation sessions are not free, but you will receive formal advice from a licenced practitioner.
Al Parsai, MA, DTM, RCIC
Regulated Canadian Immigration Consultant
Ashton College Instructor – Immigration Consulting
Author – 88 Tips on Immigration to Canada
Fill our Free Canada Immigration Assessment Form in your language!
Disclaimer:
This article provides information of a general nature only. Considering the fluid nature of the immigration world, it may no longer be current. Of course, the item does not give legal advice. Therefore, do not rely on it as legal advice or immigration advice. Consequently, no one could hold us accountable for the content of these articles. Of course, if you have specific legal questions, you must consult a lawyer. Alternatively, if you are looking for immigration advice, book an appointment.
The characters and places in the articles:
All the characters and locations in the articles are fictional, unless otherwise clearly stated. Therefore, any resemblance in names, dates, and places is coincidental.
Important Notes:
For our official addresses, trust this website only. We currently do not have offices outside Canada. Therefore, anyone who claims to be our agent is committing fraud. Also, note that we do not issue any work permits or study permits or similar documents. The government of Canada has the sole authority to issue such material.