Employment documents for Express Entry: offer, letter, records
Nathalie is a Belgian citizen who is immigrating to Canada under the Express Entry system. She recently received an Invitation to Apply (ITA) and started collecting and submitting her documents. However, the Express Entry requirements are confusing. The document checklist shows three spots, one for the Offer of Employment, the other for the Employment Records, and the last for the Letter of Employment. Therefore, Nathalie wonders what these Express Entry employment documents are.
What is Express Entry?
Before explaining employment documents, let's briefly introduce the Express Entry system. The government of Canada introduced this system in 2015. Of course, the main reasons were to manage the backlogs, allow an online application system, and process applications quickly. However, the Express Entry system only covers three economic immigration options.
If you are unfamiliar with the requirements and process of Express Entry, please read the following articles.
What are typical employment documents
The employment documents vary significantly depending on your workplace and employer's culture. However, the following documents could directly or indirectly refer to your employment. Therefore, if you intend to immigrate to Canada, retaining as many of them as possible is in your best interest.
Offer of employment: You could receive an offer from the employer before commencing your work. Sometimes, signing that offer turns it into an employment contract. However, sometimes you need to sign a separate contract upon accepting the offer.
Employment contract: This document is the contract you sign with your employer. Nonetheless, it could be nothing but the signed offer of employment.
Work or employment reference letter: Such letters describe your past or current role at your place of employment. You usually receive such letters when seeking financing from a financial institution, applying for a new job, immigrating to another country, etc.
Business card: A business card reflects your position and contact information. Moreover, it demonstrates the logo and website of your employer.
List of employees on the company's website: Some companies post their staff list online. However, they usually only post the current staff.
Paystubs: Earning statements or paystubs could indicate the continuation of employment and the fact that the role is paid.
Reference letters from others: Sometimes, you could verify your employment by receiving reference letters from colleagues or third parties. Of course, by third parties, I refer to the business's customers, suppliers, distributors, external legal or accounting team, etc.
This list is neither inclusive nor exclusive. Use it as a guideline. Also, the official definitions for Express Entry employment documents could vary slightly. Please see the rest of this article for more information.
Employment records
As the name represents, employment records refer to employment documents showing your past and present jobs. The following image shows IRCC expectations regarding employment records for Express Entry.
The image is self-explanatory. However, since some of you may not be able to read it on a cell phone or similar devices, here is a replica of it.
You must provide proof of work experience for your current job and for each past position you listed. Proof must include a reference letter from your employer and pay stubs, if you have them. The reference letter must:
• be an official document printed on company letterhead
• include your name, the company's contact information (address, telephone number and e-mail address), the signature of your immediate
• show all positions held while employed at the company
• include these details: job title, duties/responsibilities, job status (if current job), the dates you worked for the company, the number of work hours per week and your annual salary plus benefits.
You must scan all documents for this period of employment and save them as one file. (You must create a separate file for each period of employment.)
Remember, company letterhead is crucial for the following reasons:
It reflects the company's contact information (website, address, phone, etc.)
IRCC considers it an official document
Letter of employment
Probably the most confusing document is the letter of employment. You usually see this requirement if you have a job offer in Canada or if you are currently working in Canada. The following image explains the employment letter.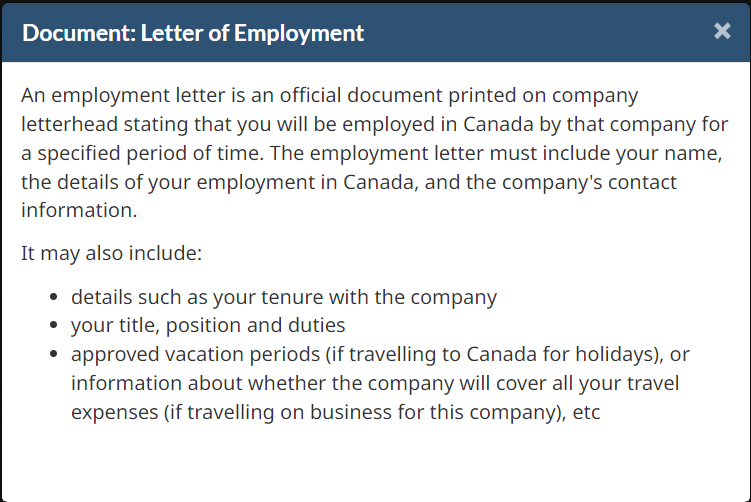 If you do not see a request for a letter of employment, do not panic. As I mentioned, this spot appears for only a specific group of applicants. Here is the text version of the image.
An employment letter is an official document printed on company letterhead stating that you will be employed in Canada by that company for a specified period of time. The employment letter must include your name, the details of your employment in Canada, and the company's contact information.
It may also include:
• details such as your tenure with the company
• your title, position and duties
• approved vacation periods (if travelling to Canada for holidays), or information about whether the company will cover all your travel expenses (if travelling on business for this company), etc
Offer of employment
An offer of employment is a formal document that allows you to receive an extra CRS score. In most cases, an official job offer must have the support of an LMIA letter. I have another article that explains Express Entry job offers in detail. However, here I only focus on the document you must submit with your application.
Here is the text version of the IRCC guideline on the offer of employment.
You must provide a job offer letter from the employer who wants to hire you.
It must be printed on company letterhead, and state that you will be employed permanently in Canada by that company. The letter must specify whether the job is:
• for continuous, paid, full-time work (at least 30 hours a week),
• for work that is permanent and not seasonal,
• TEER0, 1, 2 or 3 of the 2021 National Occupational Classification (NOC)
(Note? in most cases, the job offer must be for a permanent job. For some types of jobs, it has to be for at least one year.)
The job offer letter must include contact information for the company (address, telephone number and email address).
Best practices: Employment documents for Express Entry
IRCC usually processes Express Entry applications hastily. The officers allegedly review the applications as if looking for the slightest flaw to refuse them. Of course, they may do so to reduce the processing time. Therefore, consider the following matters regarding the employment documents to protect your application.
Study the documents multiple times and compare them together to avoid contradictory information. Remember, contradictions in documents could result in misrepresentation allegations. Unfortunately, the outcome is not only the refusal of the application but a five-year ban from Canada.
Do not submit forged, altered, or fake documents.
Use the company letterhead and other official documentation as much as possible.
Include additional non-contradictory documents to corroborate the original ones. For example, include your business card or a website printout showing you as an employee. Add these to the end of relevant mandatory documents.
Translate those employment documents that are not in the English or French languages. Use the services of a certified translator. Double-check translations for potential errors.
Include the original language documents, the official translation, and the translator's affidavit.
Since Express Entry covers economic immigration, work experience and employability in Canada are significant. Consequently, ensure to pay special attention to the employment documents.
Let us help!
If you have questions about employment documents, please book a consultation with me. While I do not assist you in filling out the forms, I can help you understand your options regarding immigration, permits and visas to Canada. Alternatively, please fill out our assessment form or the following form.
Would you please fill out our free assessment form if you wish to visit or move to Canada? We will review it for free, but we will contact you only if we find an opportunity for you. Alternatively, you may book a consultation session. Consultation sessions are not free, but you will receive formal immigration advice from a licensed practitioner.
Al ParsaiAl Parsai, LLM, MA, RCIC-IRB
Regulated Canadian Immigration Consultant
Adjunct Professor – Queen's University – Faculty of Law
Ashton College Instructor – Immigration Consulting
Author – 88 Tips on Immigration to Canada
Fill our Free Canada Immigration Assessment Form in your language!
Disclaimer:
This article provides information of a general nature only. Considering the fluid nature of the immigration world, it may no longer be current. Of course, the item does not give legal advice. Therefore, do not rely on it as legal advice or immigration advice. Consequently, no one could hold us accountable for the content of these articles. Of course, if you have specific legal questions, you must consult a lawyer. Alternatively, if you are looking for immigration advice, book an appointment.
The characters and places in the articles:
All the characters and locations in the articles are fictional, unless otherwise clearly stated. Therefore, any resemblance in names, dates, and places is coincidental.
Important Notes:
For our official addresses, trust this website only. We currently do not have offices outside Canada. Therefore, anyone who claims to be our agent is committing fraud. Also, note that we do not issue any work permits or study permits or similar documents. The government of Canada has the sole authority to issue such material.