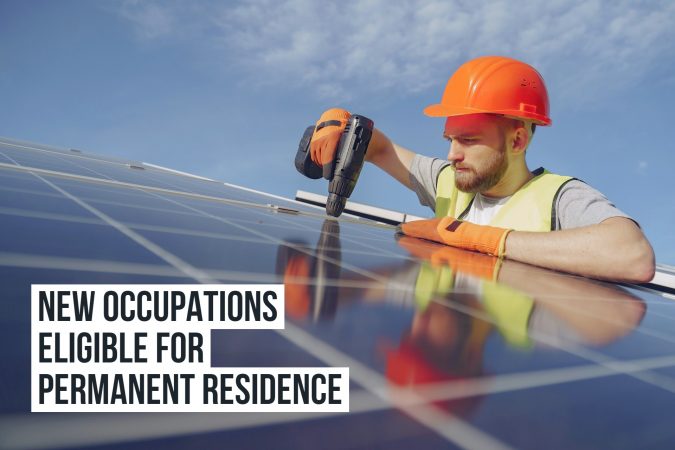 16 new occupations are now eligible for permanent residence
On November 16, 2022, Immigration, Refugees and Citizenship Canada (IRCC) switched to the 2021 version of the National Occupational Classification (NOC). This means that the system moved from the current skill level-based classification to a new TEER classification, standing for Training, Education, Experience and Responsibilities. Through this update, 16 occupations can now benefit from expanded pathways to permanent residency.
"We are using all of the tools at our disposal to tackle labour shortages, particularly in key sectors like health care, construction, and transportation. These changes will support Canadians in need of these services, and they will support employers by providing them with a more robust workforce who we can depend on to drive our economy forward into a prosperous future. I'm thrilled to announce expanded pathways to permanent residence in Canada for these in-demand workers."

The Honourable Sean Fraser, Minister of Immigration, Refugees and Citizenship
For those who are not familiar, TEER categories include six levels from 0 to 5. Moreover, TEER category 0 is similar to NOC Type 0. However, the rest of the categories are distinct from skill types. Under NOC 2016, occupations qualify for Express Entry from Skill Level B and above. However, under NOC 2021, TEER 3 and above qualify.
<<Canada will conduct targeted Express Entry draws next year>>
List of occupations that shifted to TEER 3 and became eligible for Express Entry
Payroll Administrators,
Dental Assistants and dental laboratory assistants,
Nurse aides, orderlies and patient service associates,
Pharmacy technical assistants and pharmacy assistants,
Elementary and secondary school teacher assistants,
Sheriffs and bailiffs,
Correctional service officers,
By-lay enforcement and other regulatory officers,
Estheticians, electrologists and related occupations,
Residential and commercial installers and servicers,
Pest controllers and fumigators,
Other repairers and servicers,
Transport truck drivers,
Bus drivers, subway operators and other transit operators, also
Heavy equipment operators, in addition
Aircraft assemblers and aircraft assembly inspectors.
In addition, as part of the transition from NOC 2016 to NOC 2021, some eligible occupations under the Atlantic Immigration Program (AIP) were also affected.
List of occupations that will shift from TEER 4 (NOC C) to TEER 5 (NOC D)
The Atlantic Immigration Program was currently open to occupations at Skill Level C or above within NOC 2016. However, under NOC 2021, the program will be open to occupations at TEER 4 or above. Therefore, the following occupations will become ineligible:
Pet groomers and animal care workers
Other support occupations in personal services
Longshore workers
Material handlers
Taxi and limousine drivers and chauffeurs
Delivery service drivers and door-to-door distributors
Boat and cable ferry operators and related occupations
Livestock labourers
Nursery and greenhouse labourers
Trappers and hunters
Food and beverage servers
Labourers in textile processing and cutting
How do TEER categories affect immigration to Canada?
Many economic immigration options rely on NOC for the selection process. Therefore, replacing NOC Skill Types with TEER Categories affects all of those options. You can read more about the affected programs in the following article:
Find a job title, code and TEER: NOC 2021
You can visit IRCC's website and use its table to find the NOC 2021 information that best matches your job. You just have to enter your job title or numeric code in the "Filter items" field. Or, you can also go to the NOC website and search for your NOC using the title or numeric code.

Let us help!
Let's say TEER categories confuse you, but you still want to immigrate as a skilled worker. In this case, fill out the following form. Of course, you may alternatively book a consultation session with Al Parsai or fill out our assessment form.
Fill our Free Canada Immigration Assessment Form in your language!
Disclaimer:
This article provides information of a general nature only. Considering the fluid nature of the immigration world, it may no longer be current. Of course, the item does not give legal advice. Therefore, do not rely on it as legal advice or immigration advice. Consequently, no one could hold us accountable for the content of these articles. Of course, if you have specific legal questions, you must consult a lawyer. Alternatively, if you are looking for immigration advice, book an appointment.
The characters and places in the articles:
All the characters and locations in the articles are fictional, unless otherwise clearly stated. Therefore, any resemblance in names, dates, and places is coincidental.
Important Notes:
For our official addresses, trust this website only. We currently do not have offices outside Canada. Therefore, anyone who claims to be our agent is committing fraud. Also, note that we do not issue any work permits or study permits or similar documents. The government of Canada has the sole authority to issue such material.