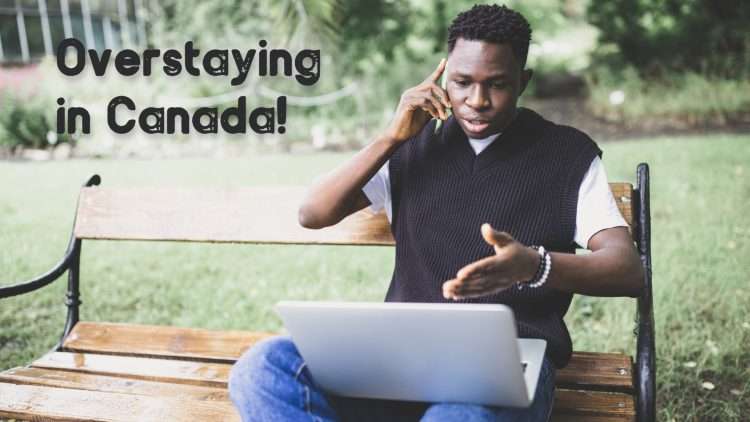 Overstaying in Canada: Causes, consequences, and solutions
Chijioke is a Nigerian citizen who entered Canada eight months ago as a visitor. The officer allowed him to remain in Canada for up to six months. However, Chijioke has overstayed in Canada. He wonders what are the consequences of overstaying in Canada. Moreover, Chijioke hopes to find a solution to this problem.
What is overstaying in Canada?
Foreign nationals may not stay in Canada forever. One of the following circumstances defines when they have to leave Canada.
Six months from the day of entry, if they do not receive an exit stamp, a permit, or a visitor record for their stay in Canada [R183(2)],
The expiration date of their work or study permit,
The expiration date of their visitor record,
If they are on maintained status, the day an officer refuses their extension or permit application [R183(5)],
Being subject to an enforceable removal order or
More than 90 days have passed since they finished their studies in Canada, even if their study permit is valid.
If a person remains in Canada beyond these dates, they overstay in Canada.
What are the consequences of overstaying in Canada?
If someone overstays in Canada, they are non-compliant with the immigration law. A non-compliant is inadmissible to Canada and is subject to a removal order. The typical removal orders for this group are exclusion orders, which ban them from Canada for one year. Nonetheless, in extreme situations, the person could be fined or imprisoned. CBSA usually deals with overstaying in Canada. However, there are exceptional circumstances in which other entities, such as IRB or IRCC, could jump in.
What are the solutions?
If you have overstayed in Canada, your best solution is to leave Canada immediately. However, if you want to remain in Canada, you may explore one of the following solutions. Remember, none of these options are perfect.
Let us help!
If you have overstayed in Canada, your best bet is to book a consultation session with me. I have been in practice since Jan 2011 and have dealt with many complex cases. However, if you doubt needing a consultation session, fill out the following form. We will review it, and if we find consultation is necessary, we will contact you.
Would you please fill out our free assessment form if you wish to visit or move to Canada? We will review it for free, but we will contact you only if we find an opportunity for you. Alternatively, you may book a consultation session. Consultation sessions are not free, but you will receive formal immigration advice from a licensed practitioner.
Al ParsaiAl Parsai, LLM, MA, RCIC-IRB
Regulated Canadian Immigration Consultant
Adjunct Professor – Queen's University – Faculty of Law
Ashton College Instructor – Immigration Consulting
Author – 88 Tips on Immigration to Canada
Fill our Free Canada Immigration Assessment Form in your language!
Disclaimer:
This article provides information of a general nature only. Considering the fluid nature of the immigration world, it may no longer be current. Of course, the item does not give legal advice. Therefore, do not rely on it as legal advice or immigration advice. Consequently, no one could hold us accountable for the content of these articles. Of course, if you have specific legal questions, you must consult a lawyer. Alternatively, if you are looking for immigration advice, book an appointment.
The characters and places in the articles:
All the characters and locations in the articles are fictional, unless otherwise clearly stated. Therefore, any resemblance in names, dates, and places is coincidental.
Important Notes:
For our official addresses, trust this website only. We currently do not have offices outside Canada. Therefore, anyone who claims to be our agent is committing fraud. Also, note that we do not issue any work permits or study permits or similar documents. The government of Canada has the sole authority to issue such material.