Permit vs visa in Canada | work, study, travel, or stay
The concepts of permit and visa in Canada are confusing. I have noticed that even some immigration students have trouble understanding them. Therefore, this article compares permit vs visa in Canada.
What is a visa?
A visa is permission to travel to Canada. Unless you are exempt, you must have a visa to board an airplane destined to Canada. Of course, a visa is also a document that assists a border services officer in deciding whether to allow you to enter or not. Nonetheless, a visa does not guarantee entry.
Sometimes you receive a Single Journey Travel document to travel to Canada. However, most of the time, a visa is a counterfoil or sticker in your passport. The following picture shows a redacted sample.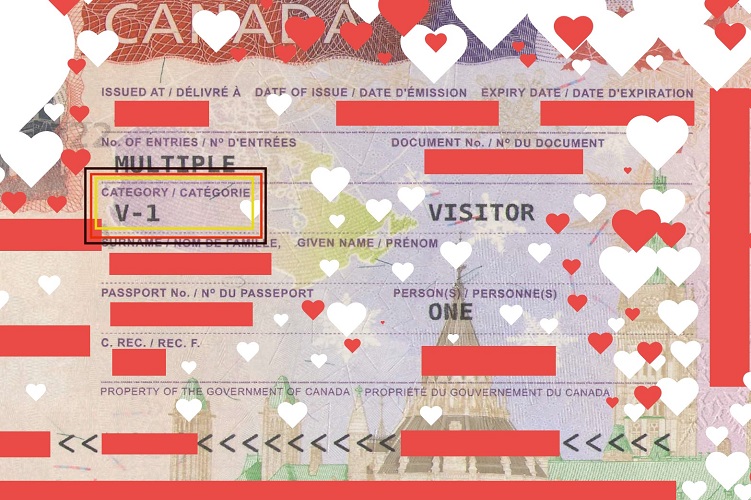 What does a visa counterfoil include?
Before comparing visa and permit, let's quickly review a visa counterfoil. Of course, personal information is a staple of a counterfoil. However, you may find more such as the UCI of the holder and the category. The latter is helpful to identify the purpose of the visit. For example, V-1 means a visitor, but W-1 refers to a foreign worker and S-1 to an international student.
How is a permit different from a visa?
A permit is a permission to remain in Canada. Unlike a visa, you may not use a permit to enter Canada. The only exception is when you are flagpoling via the United States. The following picture shows a sample redacted permit.
What does a permit include?
A typical permit includes the personal information of the holder and the expiry date. It also consists of the terms or conditions attached to the permit. Of course, the most common permits include a Visitor Record, a Work Permit, a Study Permit and a TRP.
Permit vs visa recap
Here is a brief comparison of permits and visas in Canada.
A visa is a counterfoil attached to a passport, but a permit is a standalone document.
You use permits to remain in Canada and enjoy the authorizations they offer. However, a visa is for the ability to travel and enter Canada.
Do not use a permit for re-entry unless flagpoling from the United States. On the other hand, holding a visa is no guarantee for remaining in Canada.
When you apply for a work permit or study permit, you also need a visa to travel to Canada. Nevertheless, an immigration officer issues the visa for you if they approve your work permit or study permit application.
The officers do not issue a permit for typical stays in Canada that lasts less than six months. However, if there are significant deviations, they usually give a Visitor Record which is a permit.
People who are exempt from a visa may travel to Canada without a visa counterfoil in their passport. However, when they reach Canada, they may need a permit to stay. Regardless, consider the last bullet point above.
Questions about Canadian immigration
If you have general questions about Canadian immigration, fill out the following form. Of course, a broad question could be: Could you compare permit vs visa in Canada? However, for specific questions, please book an appointment with me.
If you wish to visit or move to Canada, please fill out our free assessment form. We will review it for free, but we will contact you only if we find an opportunity for you. Alternatively, you may book a consultation session. Consultation sessions are not free, but you will receive formal advice from a licenced practitioner.
Al Parsai, MA, DTM, RCIC
Regulated Canadian Immigration Consultant
Ashton College Instructor – Immigration Consulting
Author – 88 Tips on Immigration to Canada
Fill our Free Canada Immigration Assessment Form in your language!
Disclaimer:
This article provides information of a general nature only. Considering the fluid nature of the immigration world, it may no longer be current. Of course, the item does not give legal advice. Therefore, do not rely on it as legal advice or immigration advice. Consequently, no one could hold us accountable for the content of these articles. Of course, if you have specific legal questions, you must consult a lawyer. Alternatively, if you are looking for immigration advice, book an appointment.
The characters and places in the articles:
All the characters and locations in the articles are fictional, unless otherwise clearly stated. Therefore, any resemblance in names, dates, and places is coincidental.
Important Notes:
For our official addresses, trust this website only. We currently do not have offices outside Canada. Therefore, anyone who claims to be our agent is committing fraud. Also, note that we do not issue any work permits or study permits or similar documents. The government of Canada has the sole authority to issue such material.