Can I travel to Canada with my work permit?
James is a Belizean who recently extended his work permit in Canada. Nonetheless, he doesn't hold a valid TRV (visit visa). James must travel to his home country to attend to an urgent matter. However, he wonders if he can use his work permit to travel back to Canada.
What is a work permit?
A work permit is a document that allows you to remain in Canada and work. The following picture shows a heavily redacted work permit sample.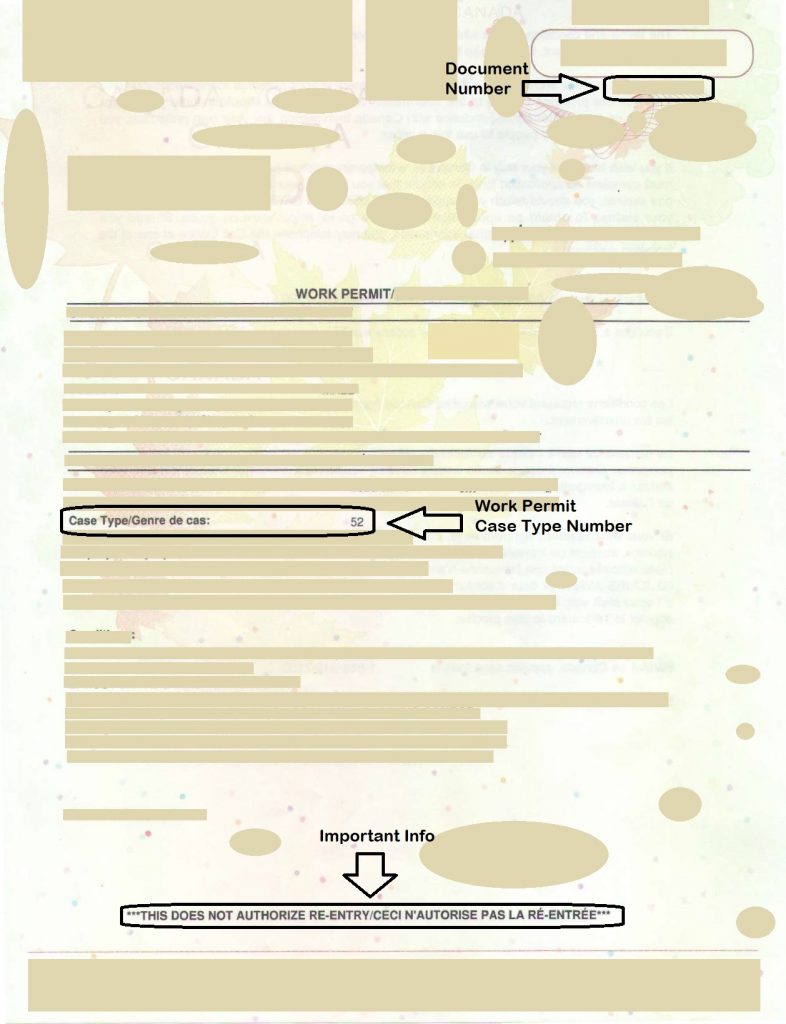 A work permit is not a visa, though. A Temporary Resident Visa (TRV) allows you to travel to Canada. However, it does not allow you to remain in Canada. A Border Services Officer decides if you can stay in Canada. Of course, if you show up at the port of entry with a valid TRV and work permit, then the officers will likely allow you to stay in Canada until the validity of a work permit. You may also like to know when officers issue TRVs for workers, they use the W-1 category code in most cases.
Travelling to Canada with a work permit
If you look at the bottom line of a typical work permit document, you will notice the following message:
This does not authorize re-entry.
Of course, the actual phrase could be different. Regardless, a work permit is not for travelling to Canada but for staying and working in Canada.
Are there exceptional situations where I can travel to Canada with a valid work permit?
Assuming your work permit is valid, you may travel to Canada without having a TRV in the following circumstances:
This list is not comprehensive, and other exceptions could exist.
As a work permit holder, can I apply for a visa while I'm in Canada?
The simple answer is yes. I have another article that explains how to apply for a TRV as a work permit holder.
Let us help!
If you are a work permit holder who needs to apply for a TRV, fill out the following form. Of course, you may book a consultation session with me. If you are a licensed practitioner, consider booking a mentorship session with me. Moreover, other people may fill out our assessment form.
Would you please fill out our free assessment form if you wish to visit or move to Canada? We will review it for free, but we will contact you only if we find an opportunity for you. Alternatively, you may book a consultation session. Consultation sessions are not free, but you will receive formal immigration advice from a licensed practitioner.
Al Parsai, LLM, MA, DTM, RCIC
Regulated Canadian Immigration Consultant
Adjunct Professor – Queen's University – Faculty of Law
Ashton College Instructor – Immigration Consulting
Author – 88 Tips on Immigration to Canada
Fill our Free Canada Immigration Assessment Form in your language!
Disclaimer:
This article provides information of a general nature only. Considering the fluid nature of the immigration world, it may no longer be current. Of course, the item does not give legal advice. Therefore, do not rely on it as legal advice or immigration advice. Consequently, no one could hold us accountable for the content of these articles. Of course, if you have specific legal questions, you must consult a lawyer. Alternatively, if you are looking for immigration advice, book an appointment.
The characters and places in the articles:
All the characters and locations in the articles are fictional, unless otherwise clearly stated. Therefore, any resemblance in names, dates, and places is coincidental.
Important Notes:
For our official addresses, trust this website only. We currently do not have offices outside Canada. Therefore, anyone who claims to be our agent is committing fraud. Also, note that we do not issue any work permits or study permits or similar documents. The government of Canada has the sole authority to issue such material.