Using an old visa when changing the status to a worker or a student
You enter Canada as a regular visitor with a TRV visa. You later manage to change your status to a worker or a student. Consequently, you receive a work permit or a study permit. However, since your application is inside Canada, the immigration authorities do not issue you a new visa sticker. Can you use the old visa when changing the status to a worker or a student for travelling to Canada? Do you need to replace your V-1 counterfoil with a W-1 or an S-1 visa? Let's explore the answer.
Visa versus permit
A visa allows you to travel to Canada, but a permit will enable you to remain in Canada. Therefore, these are two separate concepts. Please study the following article for more information:
Sometimes you may change your status in Canada from a visitor to a worker or student. However, you usually won't receive a new visa counterfoil in your passport. If your old visa has passed its expiration date, you must apply for a new TRV. The following article explains this issue in more detail.
Category codes on visa counterfoils
A visa sticker includes some vital features. One of them, the category code, reflects the nature of the visa. Consequently, a border services officer (BSO) could use this code to examine a person at entry.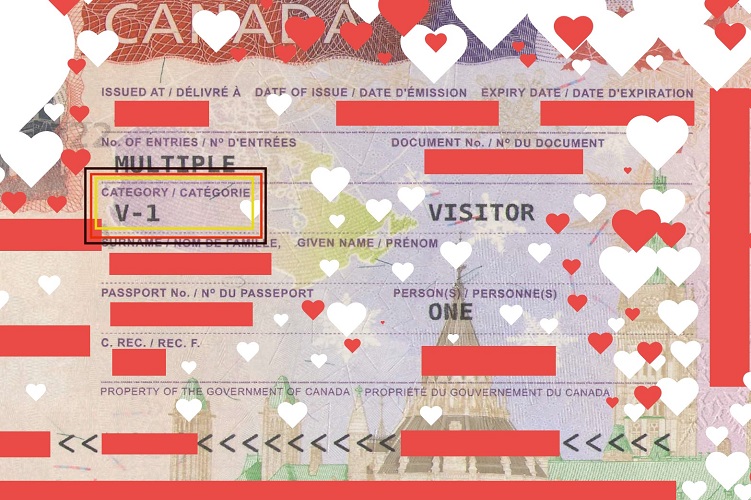 Here are some examples:
S-1: A student with a study permit
SW-1: A student with both a study and a work permit
SX-1: A student exempt from a study permit
W-1: A worker with a work permit
WX-1: A worker exempt from a work permit
V-1: A visitor, such as a tourist or someone who is visiting their family members
VH-1: A visitor in transit to another country who won't stay in Canada more than 48 hours
Of course, this list is not comprehensive and shows some examples only. Visit the following link for more information:
When you enter Canada as a visitor, you usually receive a V-1 visa. Nevertheless, IRCC won't issue you a new visa sticker by changing your status inside Canada. Thus, you will have a permit that supposedly contradicts your visa counterfoil.
NOTE: Category codes on visa counterfoils are different from case type codes on Canadian work permits. Read the following article for more information:
Using an old visa for workers or students
If you manage to change your status from a visitor to a worker or a student, you only change the nature of your temporary status. However, as I mentioned in the previous section, you won't receive a new visa counterfoil. At this stage, you have two options:
Use the old visa counterfoil for as long as it is valid
When you apply for a new TRV, you could receive a visa based on the validity of your permit. Moreover, IRCC may change the category code based on the latest document. However, there is no guarantee. Sometimes IRCC officers issue the TRV but do not update the category code. Therefore, you end up spending money without significant changes. You may also like to see the following announcement from the government of Canada.
Whether you change your counterfoil or not, you may travel to Canada, as long as the TRV is valid. Of course, an officer will examine you at the port of entry to make sure you still qualify to enter Canada.
Am I in trouble using a mismatching visa category code?
The simple answer is no. BSOs are immigration experts and understand the difference between a TRV and a work or study permit. Moreover, they have access to your immigration history. Therefore, they don't care if the category codes do not match. To resolve exceptional circumstances, carry enough documents to support your claims. Here are some documents that could help:
A copy of your work or study permit
A letter from your employer that explains your role: Of course, if you are a student, you need a letter from your school.
Your business card or student ID
Documents that show you reside in Canada, such as a cell phone bill or a recent bank statement
This list is neither inclusive nor exclusive but gives you an idea about supporting documents. I have also published a video explaining what could go wrong at a port of entry. My intention is not to scare you, as the complications are rare. Nonetheless, if you are interested, watch the video.
If you persist in having sleepless nights, consider reading the following articles. 😉
Let us help!
If you are facing visa or immigration issues, fill out the following form. Alternatively, you may book a consultation session with me.
Would you please fill out our free assessment form if you wish to visit or move to Canada? We will review it for free, but we will contact you only if we find an opportunity for you. Alternatively, you may book a consultation session. Consultation sessions are not free, but you will receive formal immigration advice from a licensed practitioner.
Al Parsai, LLM, MA, DTM, RCIC
Regulated Canadian Immigration Consultant
Adjunct Professor – Queen's University – Faculty of Law
Ashton College Instructor – Immigration Consulting
Author – 88 Tips on Immigration to Canada
Fill our Free Canada Immigration Assessment Form in your language!
Disclaimer:
This article provides information of a general nature only. Considering the fluid nature of the immigration world, it may no longer be current. Of course, the item does not give legal advice. Therefore, do not rely on it as legal advice or immigration advice. Consequently, no one could hold us accountable for the content of these articles. Of course, if you have specific legal questions, you must consult a lawyer. Alternatively, if you are looking for immigration advice, book an appointment.
The characters and places in the articles:
All the characters and locations in the articles are fictional, unless otherwise clearly stated. Therefore, any resemblance in names, dates, and places is coincidental.
Important Notes:
For our official addresses, trust this website only. We currently do not have offices outside Canada. Therefore, anyone who claims to be our agent is committing fraud. Also, note that we do not issue any work permits or study permits or similar documents. The government of Canada has the sole authority to issue such material.