Comparing V-1, WX-1, SX-1, and B-1 visas in Canada
Timur is a citizen of Moldova. He intends to visit Canada, but he has heard Canadian visas could be V-1, WX-1, SX-1, or B-1. Timur wonders what the differences between these types of visas are. Furthermore, he wonders if there are other types of visas in Canada. Of course, Timur wants to know the differences between these visa types.
What do we need to travel to Canada?
Before comparing V-1, WX-1, SX-1, and B-1 visas, let's explore the documents you need to travel to Canada. Most travellers to Canada must carry a valid passport. Moreover, unless you are exempt from a visa, you must obtain a Temporary Resident Visa (TRV) to travel to Canada. A TRV is mandatory for many travellers regardless of their intentions. Consequently, whether you are travelling for pleasure, visiting family members, studying or working in Canada, you must have a valid TRV. Of course, the Border Services Officer has an ultimate say in permitting you to enter Canada.
When you receive a TRV, the immigration authorities affix a counterfoil to your passport. The counterfoil includes a unique code, among other pieces of information. I have another article that lists these codes.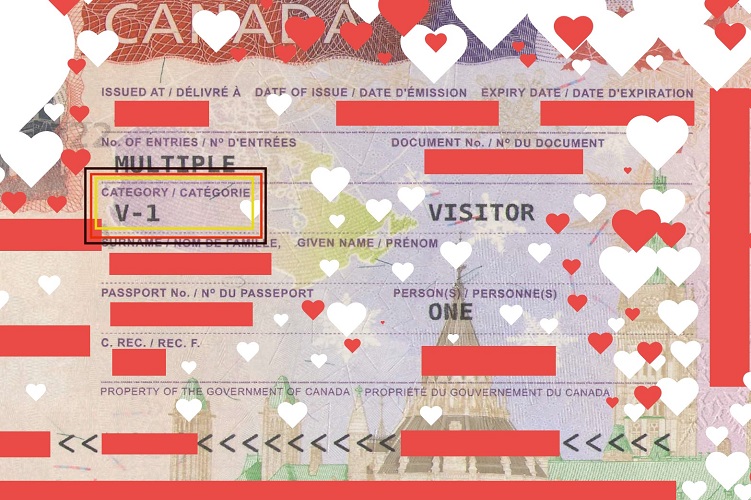 What is the meaning of a V-1 category code on a counterfoil?
A V-1 category code on a visa counterfoil means you are simply visiting Canada. Moreover, it could mean you do not intend to work or study in Canada. Typical reasons for V-1 visas could be the following:
Tourism
Visiting family members, friends, or acquaintances
Meeting your potential partner in Canada
Accompanying a family member in Canada who is visiting Canada for the same or other reasons
When filling out the TRV forms, there is no box to pick which category code you need. You explain the reasons for your travel, and then the officer chooses the appropriate code on your behalf. Of course, nowadays, an AI program such as Chinook might do this. As you can imagine, if the code appears differently and instead of V-1 is B-1, WX-1, or SX-1, you have entered a different purpose for your visit.
The B-1 category code
The B-1 category code covers business visitors. I have another article that explains business visits in Canada in detail. Regardless, business visitors may generally enter limited work or training activities as part of their visit to Canada. Remember, a B-1 category code does not replace a study permit or a work permit. Nonetheless, under the context of doing business, it allows the holder to engage in certain activities that a typical V-1 holder does not do. Before jumping to any conclusions, make sure to read my article on this subject. Also, keep the following in mind:
Business visitors visit Canada for international business.
A business visitor's primary source of remuneration must be from outside Canada.
Any training or work activities must be due to the nature of their business visit, not a typical educational or employment activity in Canada.
Unless the end users are governments or organizations, business visitors may not sell products or services to the end users.
What is a WX-1 category code?
Sometimes you may work in Canada without a permit. Section 186 of the immigration Regulations explains such circumstances. You may apply for a TRV, but mention you will work in Canada under the authority of this section. Therefore, the officer will issue you a WX-1 visa if they approve your application. Most of the jobs under R186 face significant limitations in terms of scope and duration. Here are some examples:
An aviation expert that visits a plane crash site for inspection
A performing artist that attends a live performance
A professional speaker that speaks at an event which is less than five days
Of course, the list covers a lot more activities. I have another article about working in Canada without a permit. Sometimes a WX-1 visa could qualify you to apply for a work permit inside Canada. Furthermore, you could count your work experience for the Canadian Experience Class or other immigration options. However, consult a professional to ensure these options apply to you.
The SX-1 category
When you receive an SX-1 category visa, you may study in Canada without a permit. Section 188 of the Regulations and subsection 30(2) of the Immigration Act describe situations where you can study in Canada without a permit. Since I have explained those circumstances in a separate article, I won't repeat myself here. However, remember that most international students must obtain a study permit.
The duration of stay in Canada for V-1, B-1, SX-1, and WX-1 visas
When you enter Canada, a border services officer (BSO) decides how long you may stay in our country. However, the default duration of stay is six months [practitioners see R183(2)]. In the case of a V-1, the officers rarely allow you to remain in Canada for more than six months. However, for B-1 and WX-1 visas, it is more common for them to allow you to stay for more than six months. Of course, you must justify the reasons for remaining in Canada longer than usual. The SX-1 visas are tricky and depend on the nature of the study permit exemptions. For example, if the duration of the study is less than six months, then there is no need for you to remain in Canada for six months or beyond. Moreover, consider the following:
Switching between the V-1, B-1, SX-1, and WX-1 visas
Let's say you are a tourist in Canada with a V-1 visa. However, you attend a training program that is under six months and exempt from a study permit. Do you need to switch your V-1 visa to an SX-1? As another example, let's assume you hold a multiple-entry B-1 visa. You travelled to Canada once as a business visitor. However, you are travelling to Canada for work under the circumstances exempt from a work permit. Do you need to switch your B-1 visa to WX-1?
Let's look at this from three angles:
The BSOs allow you to enter Canada if they realize you meet the following two criteria:

When you applied for the TRV, you met the requirements of the visa the original officer issued for you.
You still meet the requirements.

The main concern in any temporary resident application is whether you leave Canada by the end of your authorized stay or not.
Transparency is the name of the game. If the officer realizes you have been dishonest, they could refuse entry into Canada. The consequences could be one or more of the following:
Considering these angles use your judgment to decide if an application for a new type of visa is necessary or not. Of course, you may book a consultation session with me to explore your potential options.
V-1, B-1, SX-1, and WX-1 are not the only visa categories
Remember that a visa counterfoil could show other types as well. Since I explained those categories in another article, I won't repeat them here.
Let us help!
Whether you are applying for a V-1, B-1, SX-1, WX-1, or another type of visa, we could help. Your best bet is to book a consultation session with me first. However, you may ask your general questions via the following form. If you are a licensed practitioner, please book mentorship sessions with me. We also have a group of assessment forms that connect you to our team. They review the forms and will contact you if they see an opportunity. Nonetheless, they won't offer immigration advice.
Would you please fill out our free assessment form if you wish to visit or move to Canada? We will review it for free, but we will contact you only if we find an opportunity for you. Alternatively, you may book a consultation session. Consultation sessions are not free, but you will receive formal immigration advice from a licensed practitioner.
Al ParsaiAl Parsai, LLM, MA, RCIC-IRB
Regulated Canadian Immigration Consultant
Adjunct Professor – Queen's University – Faculty of Law
Ashton College Instructor – Immigration Consulting
Author – 88 Tips on Immigration to Canada
Fill our Free Canada Immigration Assessment Form in your language!
Disclaimer:
This article provides information of a general nature only. Considering the fluid nature of the immigration world, it may no longer be current. Of course, the item does not give legal advice. Therefore, do not rely on it as legal advice or immigration advice. Consequently, no one could hold us accountable for the content of these articles. Of course, if you have specific legal questions, you must consult a lawyer. Alternatively, if you are looking for immigration advice, book an appointment.
The characters and places in the articles:
All the characters and locations in the articles are fictional, unless otherwise clearly stated. Therefore, any resemblance in names, dates, and places is coincidental.
Important Notes:
For our official addresses, trust this website only. We currently do not have offices outside Canada. Therefore, anyone who claims to be our agent is committing fraud. Also, note that we do not issue any work permits or study permits or similar documents. The government of Canada has the sole authority to issue such material.