Visitor Record Canada – Not a Re-entry Document
Dorothy is a US citizen. One of her friends told Dorothy she doesn't require a visa or an eTA to visit Canada. Consequently, Dorothy drives up to the world of Canucks. A Canadian border services officer questions her at the Windsor land crossing. The officer asks her why she is visiting Canada and how much money she has for her trip. While the officer allows Dorothy to enter Canada, he hands her a Visitor Record. Dorothy wonders what a Visitor Record is and how it could impact her visit to Canada.
Millions of visitors travel to Canada every year. Of course, their reasons for visiting Canada could be spending time with family or friends, tourism, business trips, etc.
Who may travel to Canada?
A person may travel to Canada if they hold a valid TRV. Of course, some people are exempt from TRVs. Therefore, they may travel to Canada by receiving an eTA. However, US citizens and a small group of people are exempt from eTA and TRV for visiting Canada. Regardless, if you are not familiar with these concepts, please read the following articles:
What is a Visitor Record?
Some visitors to Canada receive a Visitor Record. Of course, a Visitor Record is a single-page document that explains the conditions attached to your visit to Canada. If you intend to extend your stay in Canada, you may apply for a Visitor Record.
What are the contents of a Visitor Record?
The following image shows a sample Visitor Record (source: the IRCC website):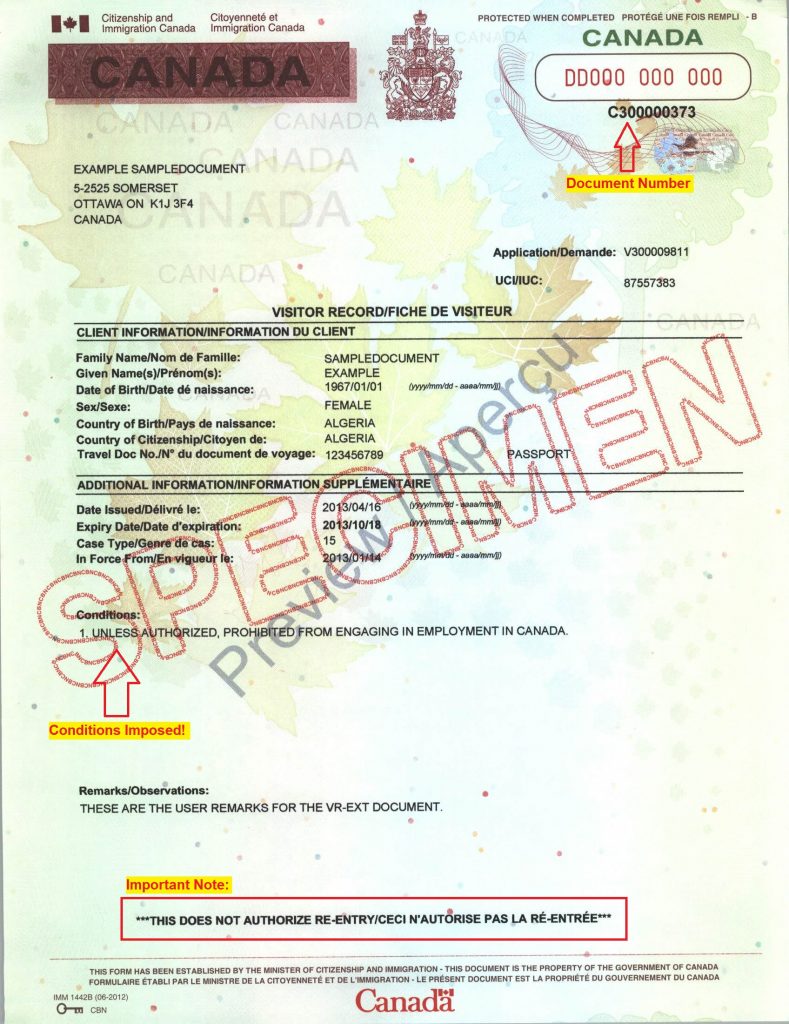 A Visitor Record includes a lot of information. However, the following elements deserve attention.
Sometimes you need the document number for future references.
Make sure your personal information is correct.
Please review the conditions imposed on your visit and ask their meaning from the BSO.
Remember, a Visitor Record does not replace a TRV. Therefore, you may not use it for re-entry to Canada.
Who could receive a Visitor Record?
A BSO decides how long you may stay in Canada when travelling to Canada. Thus, if they authorize you to stay for up to six months, you usually won't receive a Visitor Record. However, they will issue you a Visitor Record under the following circumstances.
Your authorized length of visit is significantly less than six months.
They want to allow you to stay in Canada for longer than six months.
The officer imposes certain conditions on your stay, for example:
Of course, it is a no-brainer; they may impose other conditions for your stay.
Extending your stay in Canada
If you are inside Canada and request an extension, you will receive a Visitor Record upon approval. The content of this Visitor Record is similar to the one that you receive at a port of entry. If you change your status from a visitor to a worker or a student, you will obtain a work permit or a study permit.
Inadmissibility issues
If a person is inadmissible to Canada, they may not travel to our country or stay in Canada. Therefore, if proven to be inadmissible to Canada, disregard your Visitor Record or any other documents you hold for visiting or staying in Canada. However, you could try to resolve the inadmissibility issues. Here are some links that could help you understand the concept of inadmissibility and potential solutions.
What is the difference between a TRV or an eTA and a Visitor Record?
Generally speaking, a TRV or an eTA allows you to travel to Canada. However, they do not define your length or conditions of stay in Canada. On the other hand, A Visitor Record describes how long you may stay in Canada. It also could impose conditions on you. Nonetheless, consider the following:
A TRV is a small rectangular document that an immigration officer affixes to your passport.
An eTA is an electronic clearance for travelling by air to Canada. You do not receive an eTA in a tangible format. However, upon approval, you receive an email that says you hold a valid eTA.
A Visitor Record is a single-page document that you receive from a CBSA officer at a port of entry. Alternatively, you could receive a Visitor Record from IRCC when you extend your stay inside Canada. It is not customary to attach a Visitor Record to a passport. However, you may consider folding it and keeping it inside your passport to prevent potential loss.
You may read the following article for more information:
Is Visitor Record a removal order?
A Visitor Record is not a removal order. You receive a removal order only if you are inadmissible to Canada. The process of issuance and enforcement of a removal order is cumbersome. Read the following article for more information on removal orders.
Sometimes Visitor Records are scary. For example, they may limit your stay in Canada to a week or less. They may even include conditions such as the following:
Must confirm departure at [a specific port of entry or a CBSA office]
If you see this message, don't panic! While I recommend you comply, this is not a removal order.
Can I stay longer in Canada despite a Visitor Record
If you have received a Visitor Record, you may typically extend your stay before the document's expiry date. The following article explains your potential options.
If you overstay in Canada, you must leave Canada immediately or apply for the Restoration of Status within 90 days of losing your legal status. However, if you pass the deadline, you could still have other options.
Conclusion
A Visitor Record is not a scary document. On the contrary, it clarifies the length and conditions of your stay in Canada. Sometimes, you may receive a Visitor Record because the officer wants to allow you to remain in Canada longer than usual. Also, you could use a Visitor Record for flagpoling.
Please read the content of the Visitor Record document carefully before leaving the port of entry. Of course, if you spot any mistakes, ask the officer to correct them. Don't forget a Visitor Record is not a visa. Therefore, you may not use it for re-entry to Canada.
Let us help!
If you have received a Visitor Record or facing any immigration issues, fill out the following form. Alternatively, you may book a consultation session with me. For exploring other immigration options, please fill out our assessment form.
Would you please fill out our free assessment form if you wish to visit or move to Canada? We will review it for free, but we will contact you only if we find an opportunity for you. Alternatively, you may book a consultation session. Consultation sessions are not free, but you will receive formal immigration advice from a licensed practitioner.
Al Parsai, LLM, MA, DTM, RCIC
Regulated Canadian Immigration Consultant
Adjunct Professor – Queen's University – Faculty of Law
Ashton College Instructor – Immigration Consulting
Author – 88 Tips on Immigration to Canada
Fill our Free Canada Immigration Assessment Form in your language!
Disclaimer:
This article provides information of a general nature only. Considering the fluid nature of the immigration world, it may no longer be current. Of course, the item does not give legal advice. Therefore, do not rely on it as legal advice or immigration advice. Consequently, no one could hold us accountable for the content of these articles. Of course, if you have specific legal questions, you must consult a lawyer. Alternatively, if you are looking for immigration advice, book an appointment.
The characters and places in the articles:
All the characters and locations in the articles are fictional, unless otherwise clearly stated. Therefore, any resemblance in names, dates, and places is coincidental.
Important Notes:
For our official addresses, trust this website only. We currently do not have offices outside Canada. Therefore, anyone who claims to be our agent is committing fraud. Also, note that we do not issue any work permits or study permits or similar documents. The government of Canada has the sole authority to issue such material.